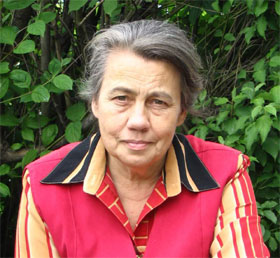 Obolenskaya
Maria Yurievna
українська версія
english version
Date of Birth: 17 July 1941. University degrees: Physician, 1964, Kiev Bogomoletz Medical State University; Ph. D., Biochemistry, 1968, Academy of Sciences of USSR; Dr. Biol. sci., Molecular Biology, 1999, National Academy of Sciences. Place of work: Institute of Molecular Biology and Genetics, National Academy of Sciences of the Ukraine. Present position: Head of the group, Leading Sci. Researcher. Associated professor in Kyiv-Mohyla Academy. Associted professor in National Taras Shevchenko University. Publications: 110.
Phone: +380 44 5261139 (w.); +380 44 2873564 (h.). Fax: +380 44 5260759. E-mail: obolenskaya@imbg.org.ua.
Research Interests concern two projects that are held in our group:
The study of molecular mechanisms of liver transition from quiescence to proliferation

We are looking for the molecular processes that enable the sequential entry of different liver cells into proliferation and coordination of liver cells functions during this process, the maintenance of cell-specific functions at the background of active proliferation. We explore the intercellular cross-talk by studying the cytokines expression and nitric oxide production by different liver cells. Now we investigate the involvement of IFN system in regenerating process and in acute-phase response. We concentrate ourselves on the study of IFN a /β expression, on expression of their receptor and targets. The latter include 2,'5'-oligo(A) synthetase, enigmatic RNAse L, protein kinase R, caspase and proteasome activities.

The study of detoxification function of human placenta

We explore human placental detoxification system in relation to environment and individual genotype of several enzymes metabolically related to the activity of glutathione S-transferase, the main placental detoxication enzyme. Now we focus our efforts on the regulation of transcription of glutathione S-transferase by identification the transcription factors and methylation status of glutathione S-transferase promoter.
Main publications:
Obolenskaya M.Yu., Bernauer H., Tran - Thi T.-A., Decker K. (1994) Levels of RNA for TNF-a and TNF receptors during the prereplicative period of liver regeneration. - Biopolimeru i kletka - V.10, N4. - P.152 - 156.
Obolenskaya M.Yu., Vanin A.F., Mordvintcev P.I., Mulsch A., Decker K. (1994) EPR evidence of nitric oxide production by the regenerating rat liver. Biochem. Biophys. Res. Comm. - V. 202, N1. - Р. 571 - 576.
Obolenskaya M.Yu., Schulze-Specking A., Plaumann B., Frenzer K., Freudenberg N. and K. Decker. (1994) Nitric oxide production by cells isolated from regenerating rat liver. Biochem. Biophys. Res. Comm. - V. 204, N3. - Р. 1305 -1311.
Obolenskaya M.Yu., Decker K. (1995) Cytokines, nitric oxide synthesis and liver regeneration. - J. Gastroenterology and Hepatology.. - N10. - S12-S17.
Obolenskaya M.Yu. (1997) Cytokines and liver regeneration. - EOS - J. Immunology and Immunopharmacology. - V.17, N2. - Р. 51 -58.
Obolenskaya M.Yu., T.L.Tchaikovskaya, L..M. Lebedeva, L.L. Macevitcz, L.V.Didenko, K.Decker. (1997) Glutathione status of placentae from differently polluted regions of Ukraine. - European Journal of Obstetrics & Gynecology and Reproductive Biology. - 1997. - V.71, N 1. - P.23-30.
Obolenskaya M.Yu. (1999) The book: Rat liver regeneration: molecular processes, their regulation and the time scale. - Kiev, Znannya. - 34 p.
Obolenskaya M., Teplyuk N., Sasonova L., Prima V., Malko M., Bondarenko E., Didenko L., Vit V., Divi R., Poirier M., Pasanen M. (2004) Glutathione S-transferase activity and PAH-DNA adducts in human placenta as a risk factor for newborn in radioactively contaminated regions // Intern. J. Rad. Med. - N 1-2. -P. 154-166.